Regular price
$1,499.99
Sale price
$1,299.99
Unit price
per
Sale
Sold out
 ANTLER PENDANTS
We will create a STUNNING MASTERPIECE - Custom Design Antler Pendant Chandelier for you-when only the BEST will do!
Individually Handcrafted by a Professional Antler Artisan!
Proudly Handmade in USA. Workmanship is Guaranteed! 
FREE SHIPPING mainland USA. 
Long Lasting Beauty & Quality!
U.L. & ETL Certified - U.S. & Canada. 
Please message us with any questions you may have!
The price listed above includes all shipping, handling and crating fees- there are no additional costs.
These amazing looking Elk Antler Pendants come in several sizes so you can match it to the size of your room or entryway.
The 2 elk antler pendant is approximately 2-2.5' long with 1 light or 2 lights. The 3 antler pendant measures around 36" tall and 14"-16" wide (at the widest point) and includes 4 beautiful lights. 3' of chain is included.
The VERY robust 4 elk antler pendant has 4 lights and measures around 4.5' and is around 20" wide at the widest point. 3' of chain is included.
All wiring is done internally so no wires are seen, which adds to the great looks of this elk antler pendant light.
All of our Antler Chandeliers are individually HANDCRAFTED for excellence by a professional Artisan -which takes time. If you are looking for the BEST, you have just found it!
The comment we receive the most from our clients is they LOVE the great looks of their antler chandelier and they can SEE the QUALITY and CRAFTSMANSHIP- it was well WORTH the WAIT!
Please allow us 8-14+ weeks to individually handcraft a masterpiece for you! Larger chandeliers may take a bit longer.
Since our lights are hand-crafted and every one is a custom design they are not refundable. Sizes may vary from 5-10% due to antler shapes. 
Please call or email us with any questions- we would love to hear from you! 
Note* We custom build antler chandeliers for people and love doing it so if you have a different size or style in mind just let us know and we'll craft a chandelier to meet your needs.
ALL our lights and chandeliers are made in the USA.
We ship to Canada and Internationally, just call or email us for a shipping quote.
Adding an elk antler pendant light to your home or cabin is a real simple, yet beautiful way to add some great antler or rustic lighting to your overall Western theme.
The wonderful thing about our pendant lights is that they take up very little room by hanging vertically in a room's corner.
Of course they look magnificent when they are hung in an entryway or the right hallway. There really are so many places and ways to use elk antler pendant lights because they take such a little amount of room to hang.
The beauty of the naturally shed elk antlers themselves is a thing to behold. Shed elk antlers have beautiful, deep, dark tones of color with some ivory tips, which vary from antler to antler.
Take a close look thru our zooms at the antlers and notice their beauty, which until just recently, adorned a bull elks head as he walked thru the mountains fighting for survival each step of the way.
And those antlers helped him to survive, one day at a time until he "dropped" them last spring!
Look closely at how carefully placed the 2 lights are on the elk antlers and you'll see why this pendant light is so popular among the Interior Designers we work with.
Every detail of this elk antler pendant light has been taken into careful consideration to create a very special light for that very special room or area.
If you would like a bigger or longer pendant light that has more antlers, lights or have your own great ideas for a pendant light let us know and we'll create your own special design for you.
WHAT'S THE DIFFERENCE BETWEEN OUR ANTLER PENDANT LIGHTS AND ALL THE OTHERS?
First, we only use Grade A antlers, which are best looking and highest quality naturally shed deer, elk or moose antlers in the industry.
Also the most expensive, but you get what you pay for. Next, each candelabra light socket is individually hand-crafted, shaped and styled to fit on the curve of the antler exactly where the light is needed for the best overall lighting effect.
To hand-craft each antler light socket takes a lot of time and effort and it is much faster and cheaper to use commercially made "ok looking" light sockets and fit them onto the chandelier. We don't take those kinds of short cuts.
Another important point to notice is that all our chandeliers are internally wired for better looks and that is difficult to do and takes a lot of skill and effort to do properly.
No shortcuts when it comes to quality. Also, our antler master craftsman are the best and have been doing their trade for decade's full time professionally and are the very best in the antler chandelier industry.
They know what they are doing and how to do it to ensure that you will get the best looking, highest quality antler chandelier on the market for your money. Find discount rustic furniture and discount antler furniture here.
3' of Patina chain and ceiling cap assembly are included and all our lights are UL Listed and Approved for Dry Locations Only. Need a custom design or a different size or style? Email or call us at Teton Lighting and we'll craft exactly what you have in mind!
We want to earn your business by giving you great customer service.
All lights are "Made in the USA" or they don't leave our shop.
Thank you for shopping with us at Teton Lighting, we look forward to serving you!
View full details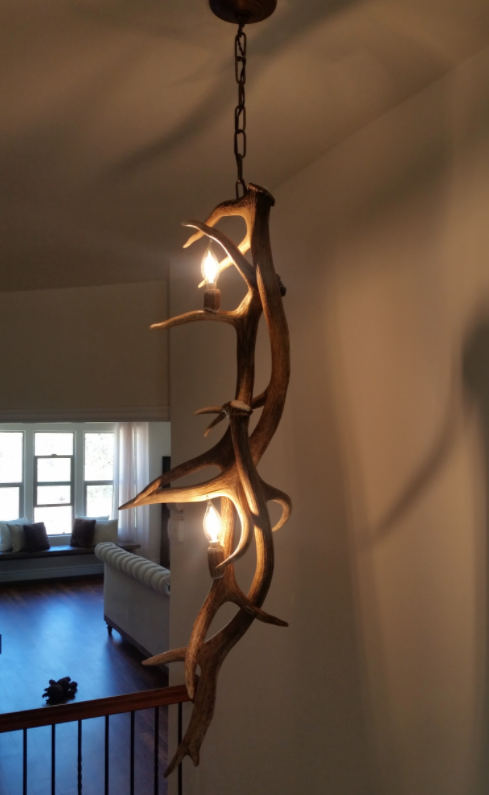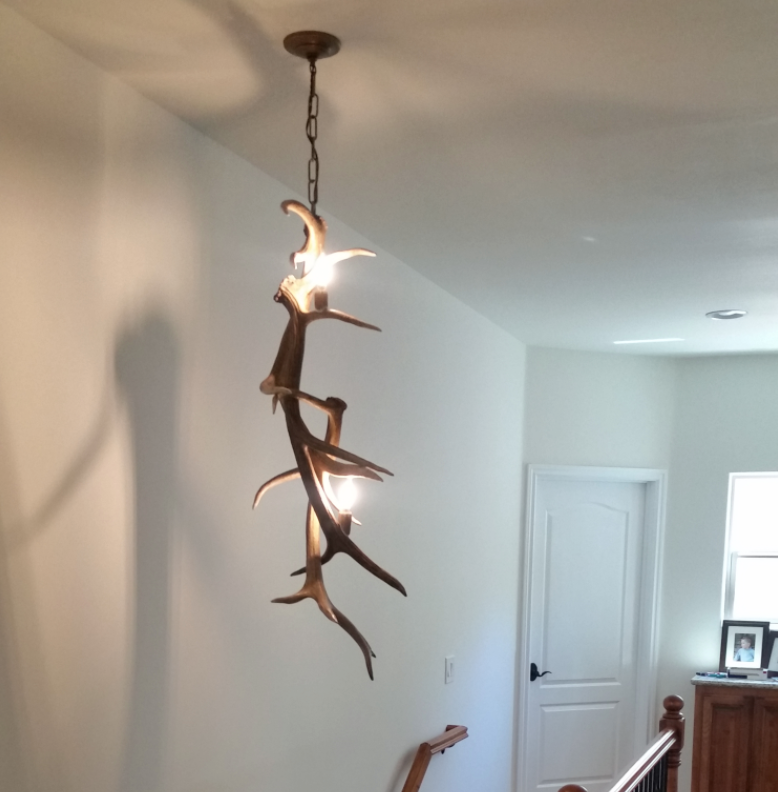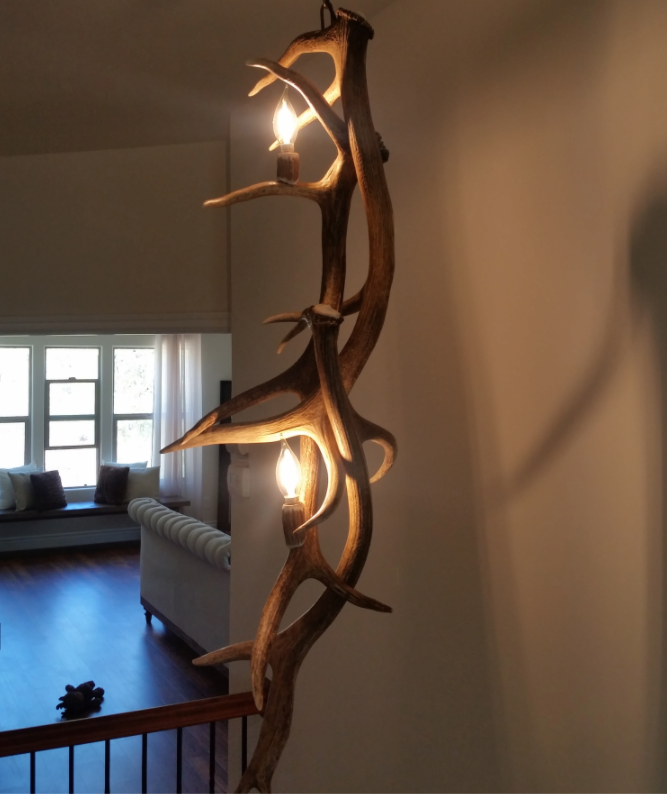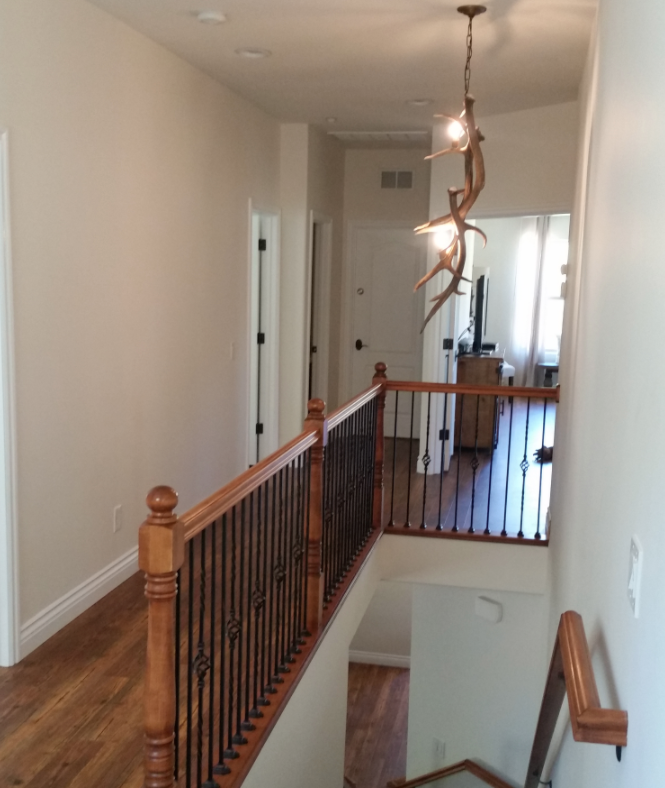 Teton Lighting is based in Idaho (USA)!
We are proud to be based in the United States and offer (almost exclusively) products that are handcrafted right here as well!