Regular price
Sale price
$1,999.99
Unit price
per
Sale
Sold out
ANTLER CHANDELIER
We will create a STUNNING MASTERPIECE - Custom Design Antler Chandelier for you-when only the BEST will do!
Individually Handcrafted by a Professional Antler Artisan!
Proudly Handmade in USA. Workmanship is Guaranteed! 
FREE SHIPPING mainland USA. 
Long Lasting Beauty & Quality!
U.L. & ETL Certified - U.S. & Canada. 
Please message us with any questions you may have!
The price listed above includes all shipping, handling and crating fees- there are no additional costs. 
 REAL ELK ANTLER CHANDELIER, The light sockets will look different than the chandelier pictures- take a close look at the light socket picture to see what they will look like because we use real ELK ANTLERS- COVERED SOCKETS that are HAND-CRAFTED!!!  
Please allow us 8-14+ weeks to INDIVIDUALLY HANDCRAFT a MASTERPIECE for you! Larger chandeliers may take a bit longer.
The  Elk Antler Chandelier is available in several impressive sizes. The wiring for this chandelier is fully concealed within the antlers and features  beautiful candelabra lights (rated at 75 watts each) with beautiful elk antler light sockets, 3' of chain.
All of our chandeliers are built to last, fully tested, hang level, screwed together and every hole is carefully filled and blended in to match the antler making them virtually undetectable.
A true work of art with the utmost attention to detail is what sets our chandeliers apart from the others and they are designed to last a lifetime. 
Our elk and deer chandeliers come with everything you need to install it in a ceiling electrical box including 3 feet of chain, canopy cover and install parts. 
Other sizes and a down light are available upon request. 
The Eagle River comes standard with real elk antler light sockets (check the last several pictures please)- if you prefer wood (as shown in the pictures) or metal light sockets (as shown in several pictures) just let us know and we will make it happen!
All of our Antler Chandeliers are individually HANDCRAFTED for excellence by a professional Artisan -which takes time. If you are looking for the BEST, you have just found it!
The comment we receive the most from our clients is they LOVE the great looks of their antler chandelier and they can SEE the QUALITY and CRAFTSMANSHIP- it was well WORTH the WAIT! 
Since our lights are hand-crafted and every one is a custom design they are not refundable. Sizes may vary from 5-10% due to antler shapes. 
Please call or email us with any questions- we would love to hear from you! 
Since our lights are hand-crafted and every one is a custom design they are not refundable.
Note* We custom build antler chandeliers for people and love doing it so if you have a different size or style in mind just let us know and we'll craft a chandelier to meet your needs.
ALL our lights and chandeliers are made in the USA. We ship to Canada and Internationally, just call or email us for a shipping quote.
 WHAT'S THE DIFFERENCE BETWEEN OUR ELK ANTLER CHANDELIERS AND THE OTHERS?    
The BEST VALUE your money can buy:  
 We guarantee the best value with the lowest prices. Why? Because we have very little overhead, no salesmen, no middlemen and no store front so we can pass the BIG savings on to you! It just makes sense.  
The HIGHEST QUALITY & BEST LOOKING antler chandeliers money can buy:   
When you buy an antler chandelier from us you will receive the absolute BEST LOOKING and HIGHEST QUALITY antler chandelier that your money can buy- anywhere, GUARANTEED! Why?  
First, we individually hand select every antler for each chandelier we design and create. Every antler is inspected for looks, quality and shape. We ONLY use Grade A antlers. Grade A antlers are the very best looking shed antlers that can be bought anywhere.
They are labeled as Grade A antlers because they are the highest quality and best looking antlers that can be purchased in North America.
There is quite a demand for the Grade A antlers we use and are also the most costly antlers to acquire and use for our antler chandeliers. A lot of antler chandeliers are made using Grade B or even Grade C antlers, hoping people won't notice.
They are quite a bit cheaper to buy and use to build antler chandeliers but an observant eye can tell the difference quite easily, and what a difference they are in looks and quality. You get what you pay for. No shortcuts when it comes to quality.  
 Second, all the beautiful candelabra antler light sockets (notice the pictures we include) we use are individually hand-crafted, shaped and styled to fit on the antler exactly where the craftsman feels the lights are needed most to create the very best lighting effect. Hand-crafting all the candelabra light sockets requires an amazing amount of time and very hard effort.
Obviously it would be faster and less expensive if we used standard, "assembly line" commercially manufactured light sockets on our antler chandeliers.
But we don't because we don't take any short cuts that take away from the quality and looks of our antler chandeliers! Never have, so we don't use any short cuts in the designing and crafting of the very best antler chandeliers available on the market, bar none.   
Third, every one of our antler chandeliers are internally wired for better looks. That is no easy task and is difficult to do, requiring a lot of skill, effort and time to do properly. Just imagine all those wires running through the curved antlers at different angles and running the length of the antlers.  
Fourth, our professional craftsmen are the best in the antler chandelier industry. They have been crafting, designing and building antler chandeliers and working their trade for decades. They know what they are doing and how to do it to ensure that you will get the best looking, highest quality antler chandelier on the market for your money.  
The BEST CUSTOMER SERVICE you can find anywhere:   
We are a small family owned business outside Boise, Idaho, run by a husband and wife team. We answer all the phone calls and emails and each and every order is important to us.
You're NOT just a customer order number to us. We follow your order from the time it is received to when the antler chandelier is delivered to your home and lit up. We believe in giving you GREAT customer service and that is why we get many repeat customers and referrals.   
View full details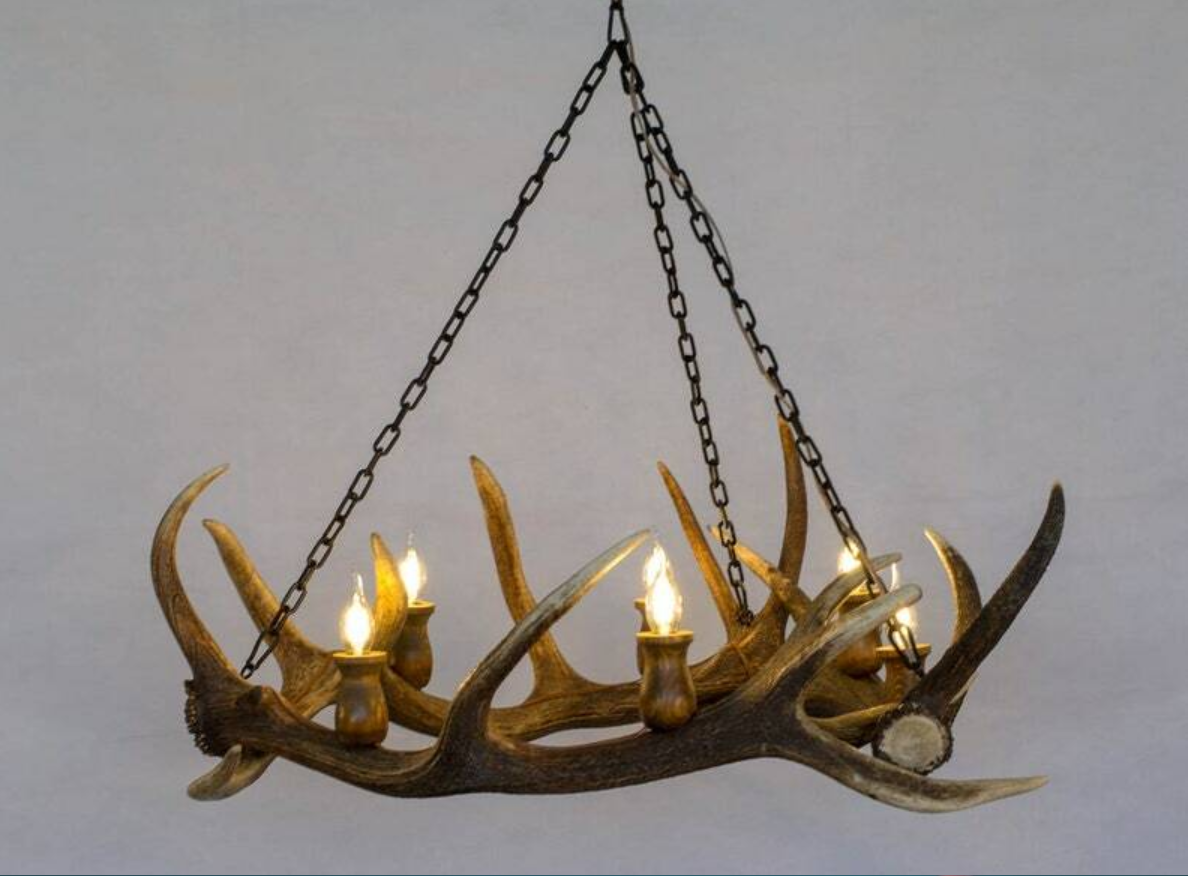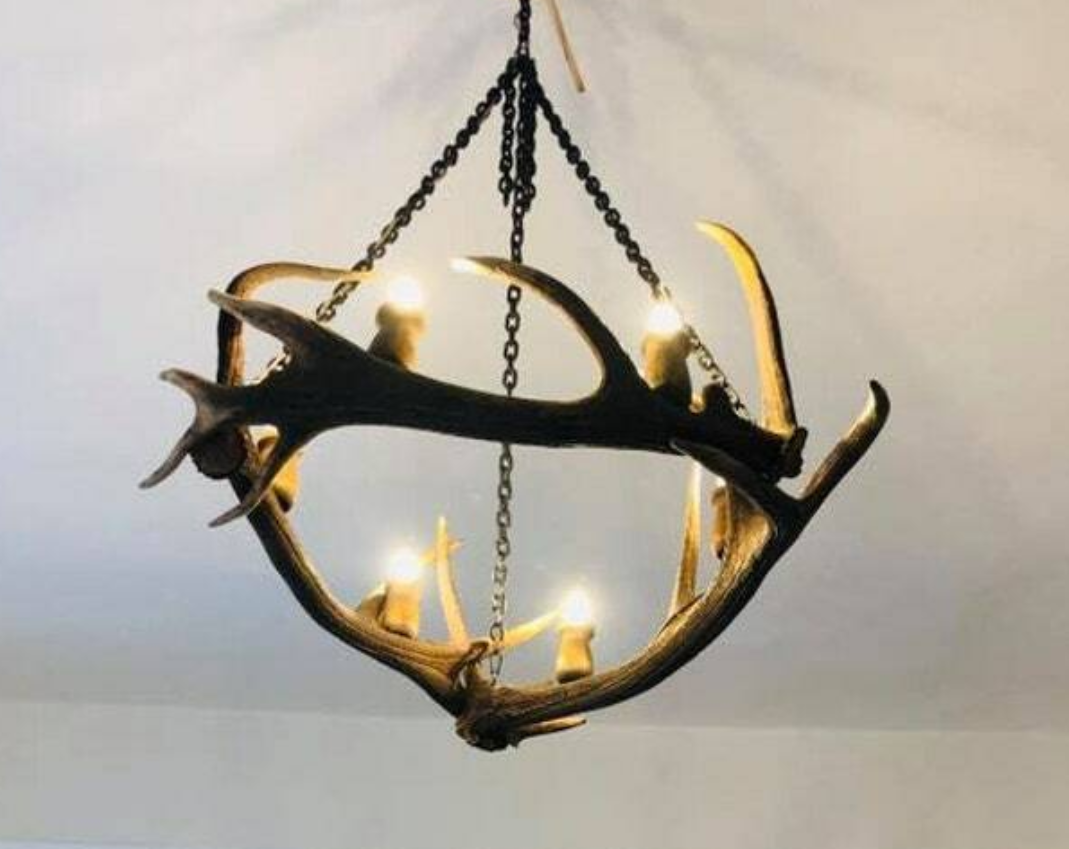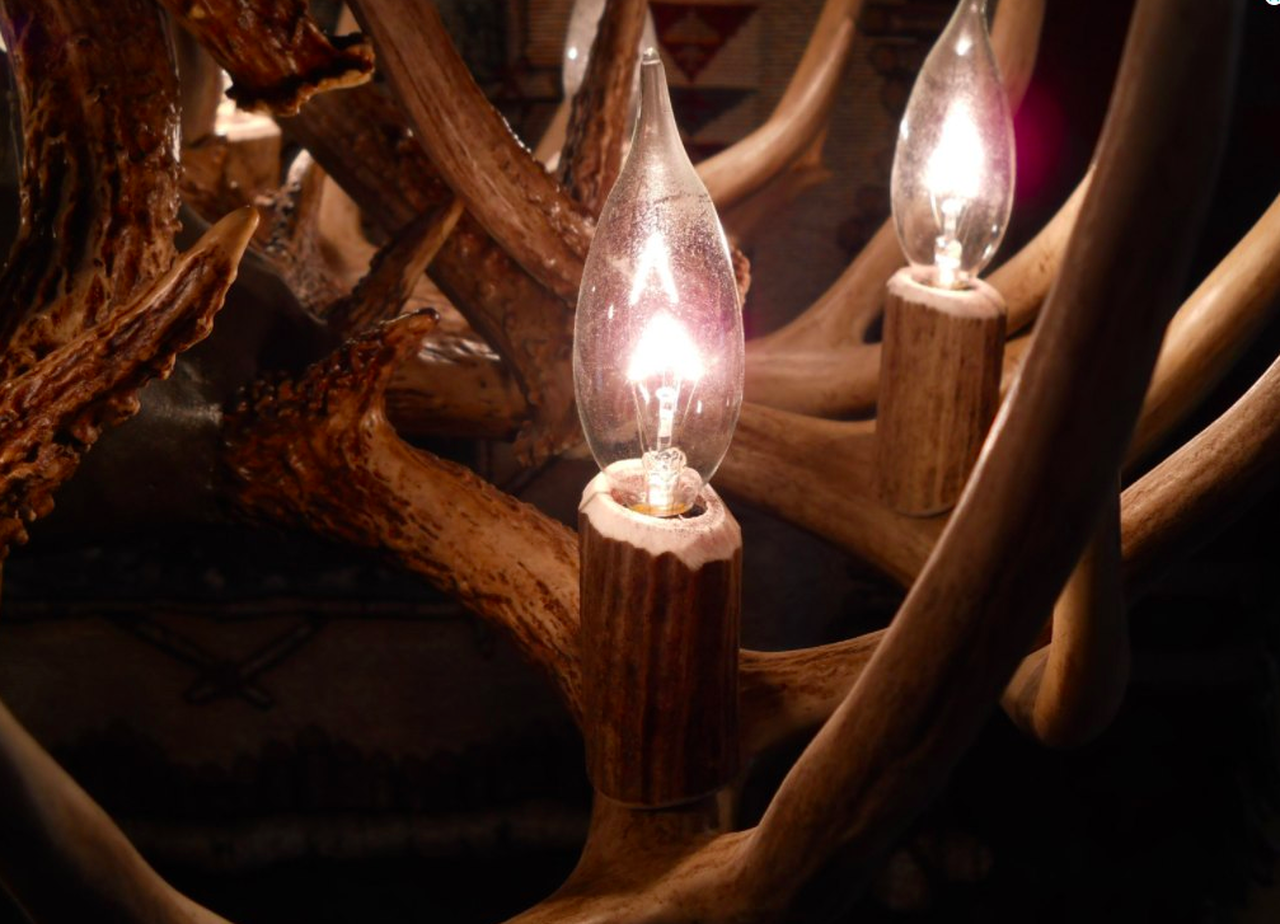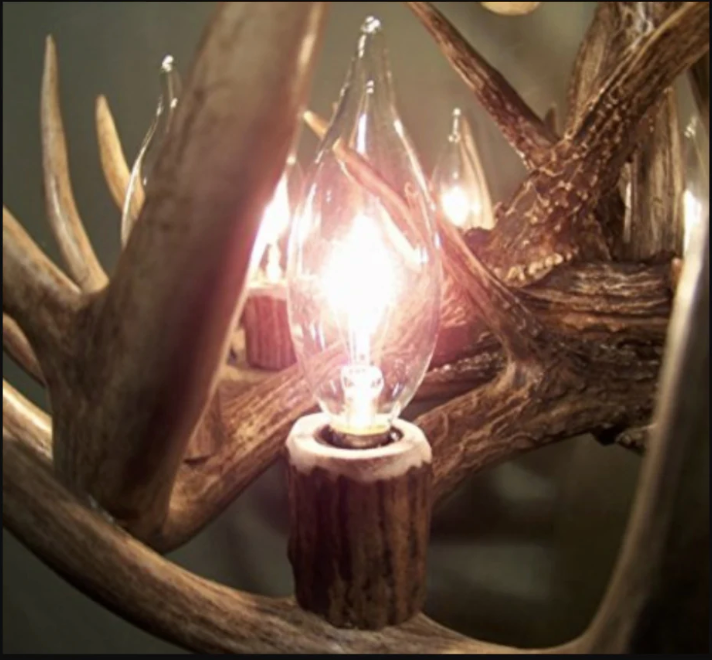 Teton Lighting is based in Idaho (USA)!
We are proud to be based in the United States and offer (almost exclusively) products that are handcrafted right here as well!